Accessibility
We want everyone to be able enjoy our beautiful and unique piece of paradise.

The house has been designed to allow ease, comfort, and convenience for everyone whether able bodied or persons with disabilities.

The below information should help you to understand whether our home will be suitable for you and your guests.

Feel free to contact us directly with any questions.


The Carpark
The carpark is a large flat area with direct access to the house.
There is one step down to the verandah. Some people may require assistance with this.


The House
The house is open plan with a large bathroom & bedroom on the main ground floor level.
2 additional bedrooms and a bathroom are upstairs.
Entry to the house is via 3 wide doors with a small step over the door frame


The Bathrooms
The large bathroom on the lower level is spacious and wheelchair accessible.
The shower on this level is very open and wide enough to allow a wheelchair.
The sink and shower taps are able to be used one-handed.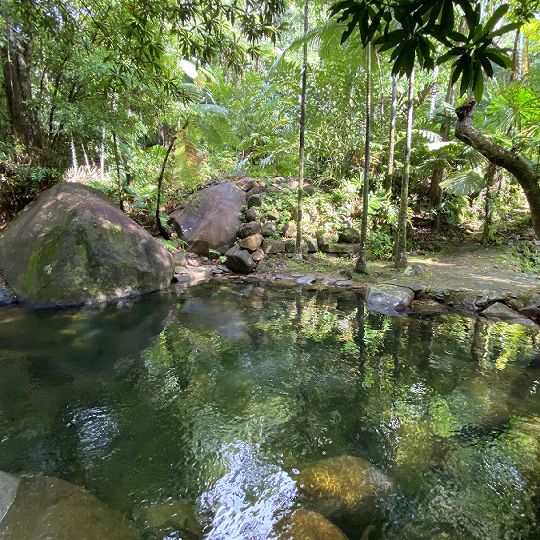 The Swimming Hole
Access to the swimming hole is via concrete path through the garden.
There is a step down from the house. Some people may require assistance.
Ramps become very slippery in this humid environment and we reduce their use for safety reasons.
The swimming hole itself is only accessible to people who are agile as you have to either dive in or navigate over rocks that can be slippery.


The Gardens
We have lots of lovely gardens accessible from the flat carpark area.
Other gardens are more difficult to access due to the steepness of the property.


Assistance Animals
We unfortunately do not allow animals at Daintree Secrets as they scare away the native fauna that is part of what makes Daintree Secrets so special.


Please feel free to contact us via email or mobile phone with any questions at all.