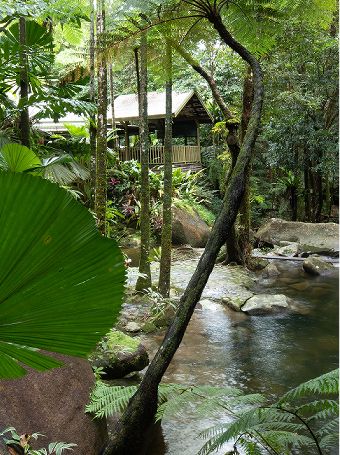 Daintree Secrets is your own private waterfall sanctuary set in the heart of the beautiful Daintree Rainforest, the oldest rainforest in the world! Only two hours scenic drive from Cairns, this secluded property captures the true essence of this spectacular wilderness.

Your Daintree Accommodation, a Daintree Holiday House…. The only Daintree accommodation with a private swimming hole and waterfalls, right in front of your scenic deck. Perfect as a romantic get-away or family holiday staying at this Daintree Rainforest Holiday Home. Set on four acres, this private sanctuary is powered by our own hydroelectric system, ensuring your carbon footprint is minimal whilst enjoying your stay in the middle of the oldest rainforest in the world.

Centrally located in the Daintree / Cape Tribulation area, it is the perfect base to explore all the region has to offer.

To ensure you make the most of your stay, we recommend a minimum of 3 nights stay so you can really relax and enjoy your own private waterfall sanctuary and explore all that this area has to offer. All our guests tell us that their stay just wasn't long enough.

We look forward to sharing our beautiful and unique piece of paradise with you. Feel free to contact us with any questions you might have.

What Makes Your Stay at Daintree Secrets so Special?
Private Paradise - Natural Swimming Hole, Series Of Waterfalls, Lush Rainforest
We are Eco-certified by Eco-Tourism Australia, so you can be confident that your carbon footprint is minimal whilst enjoying all the comforts of your jungle home.
You have absolute privacy.
The property is set on four acres of verdant rainforest, in a valley just below Thornton Peak (the 3rd highest mountain in Queensland).
The entire property is all yours for your stay.
There is no on-site management.
You have a deep, crystal clear, permanently running mountain stream complete with waterfalls- and you don't have to share it with anyone! This is all yours!
This is the largest private swimming hole in the area - approximately 15 x 10 metres, and 4 metres deep. Perfect for diving into!
Our smaller, shallow, sandy pool right below the veranda is perfect for those that cannot swim and small children.
It's a short 30 second walk from the house to the swimming hole.
Swimming at Daintree Secrets is safe from crocodiles. We are situated too high for crocodiles (about 150 metres above sea level), and the water is too cold for them.
We share our swimming hole with jungle perch, fresh water yabbies and if you're lucky – a turtle or 3 !
The temperature at Secrets is 5 degrees or more cooler than in Cairns and surrounds.
We are powered by our hydro and solar electricity, not noisy generators.
The large veranda has 270 degree views of the rainforest, stream and waterfalls.
The sound of the waterfalls will lull you to sleep.
We are situated at the end of a cul-de-sac
Places to sit and look at the view. Many are shaded, but some are perfect for sun worshippers and there are a couple of fabulous spots for early morning yoga.
We have a large cleared grassy area behind the carpark, perfect for stargazing at night. This is an astronomers delight as there are no nearby lights. Also popular for games of cricket.
Centrally located in the Daintree/ Cape Tribulation area. All local attractions, cafes and restaurants are within 2 – 20 minutes' drive.
You have a full sized and fully stocked kitchen so you can cook up a storm. Including:
A full sized fridge/ freezer. Loads of room for food for 7 people for a week.
An 80litre esky for drinks for large groups.
A weber barbeque with all the extra's is set up on the veranda for alfresco cooking.
State of the art knives and cooking equipment
Pantry basics and a large assortment of condiments
Loads of Daintree and coffee for the plunger.

Al fresco dining in the treetops with waterfall views.
A love-seat /swing with waterfall views.
A large daybed inside for those afternoon naps.
All linen is supplied, including beach towels to be used around the pool.
We turn over our linen yearly for your enjoyment.
We have 2 x luxurious king-size beds from the Westin Hotel group for a perfect night's sleep. A double and single bunk for those not paying the bills
Loads of DVD's and games supplied to keep you entertained if you get bored with nature!
Torches and headlamps for night-time jungle critter spotting walks around the property.
An eclectic collection of books for your enjoyment.
Luxury double outdoor bean bags for lazing around the swimming pool.
Non-break drinkware and plates supplied for poolside entertaining.
Pool toys for the kids and those who are not strong swimmers.
Yoga mats supplied for the yogis and "wanna be" yogis.
No internet or mobile phone connection so you can truly relax and have a holiday. If you're after a Digital Detox, this is the perfect place for your next holiday!
Easy parking on the flat, right beside the house.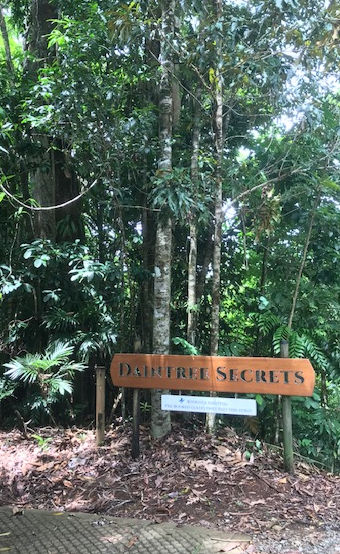 We really have tried to think of everything that you may need or want during your stay, and have spared no expense. We want you to have the holiday of a lifetime! ENJOY!


PS. Don't take our word for it
Check out OUR REVIEWS!
Feel free to call me on 0409792922 or email me with anu questions at all.


Kindest regards,
Katherine