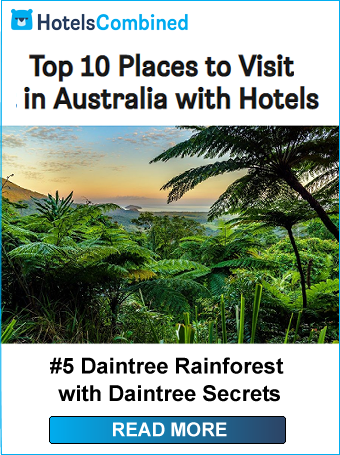 Daintree Secrets is your own private waterfall sanctuary set in the heart of the beautiful Daintree Rainforest, the oldest rainforest in the world! Only two hours scenic drive from Cairns, this secluded property captures the true essence of this spectacular wilderness.

Your Daintree Accommodation, a Daintree Holiday House…. The only Daintree accommodation with a private swimming hole and waterfalls, right in front of your scenic deck. Perfect as a romantic get-away or family holiday staying at this Daintree Rainforest Holiday Home. Set on four acres, this private sanctuary is powered by our own hydroelectric system, ensuring your carbon footprint is minimal whilst enjoying your stay in the middle of the oldest rainforest in the world.

Centrally located in the Daintree / Cape Tribulation area, it is the perfect base to explore all the region has to offer.

To ensure you make the most of your stay, we recommend a minimum of 3 nights stay so you can really relax and enjoy your own private waterfall sanctuary and explore all that this area has to offer. All our guests tell us that their stay just wasn't long enough.

We look forward to sharing our beautiful and unique piece of paradise with you. Feel free to contact us with any questions you might have.

What Makes Your Stay at Daintree Secrets so Special?
Just a few of this Rainforest Sanctuary features include:
Set on four acres, in a valley just below Thornton Peak (the 3rd highest mountain in Queensland) you have absolute privacy and serenity.
You have the entire property to yourself.
Year round running stream means we can run our own hydro-electric power, not generators like all other guest-houses in the area.
Other swimming holes dry up in the dry season. Our waterfalls run all year, providing the perfect mountain stream for you to enjoy.
The largest private swimming hole in the area - approximately 15 x 10 metres, and 4 metres deep. Perfect for diving into!
A smaller, shallow, sandy pool right below the verandah is perfect for those that cannot swim and it is warmer than the large pool.
Our swimming holes are at the end of your verandah, not a 20 minute walk, and they're all yours. You don't have to share with the general public.
Daintree Secrets is situated too high (about 150 metres above sea level), and the water is too cold, for crocodiles.
We share our swimming hole with jungle perch, fresh water yabbies and if you're lucky – a tortoise or 3 !
The house sleeps 6, with a roll-away bed for an extra child.
The sound of the waterfalls will lull you to sleep.
Situated at the end of a cul-de-sac, in our own private valley, so no traffic or dust.
A viewing platform with table and chairs, looking down over the house and the creek. A sunny spot for sun worshippers and fabulous spot for early morning yoga.
A large cleared grassy area behind the car-park, perfect for stargazing at night. This is an astronomers delight as there are absolutely no nearby lights.
Centrally located in Daintree/ Cape Tribulation area. All local attractions, cafes and restaurants are within 2 – 20 minutes drive
No management on site. You have total privacy
Please see a list of the features of the house under "Stay".